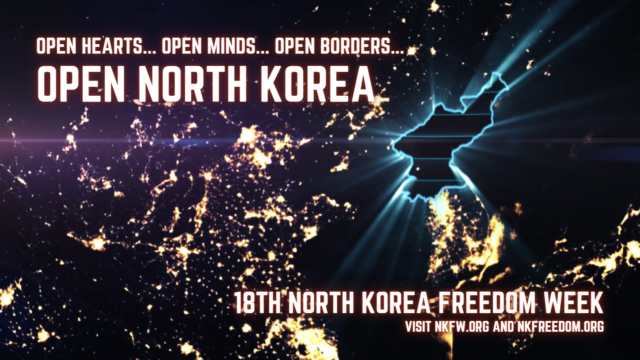 Please Join Us for the 18th Annual North Korea Freedom Week 2021
OPEN! NORTH KOREA… Open Hearts, Open Minds, and Open Borders
Dear Friends:
I am pleased to invite you to join the 18th Annual North Korea Freedom Week which will be held April 25 – May lst, 2021/(April 24-30 for DC Scheduling). Details below include the links to participate in events during that week for and with North Korean escapees. Translation will be provided for all NGO sponsored events.
Sunday, April 25 (Saturday night in USA) and Monday (Sunday in USA) opening prayer service and opening day in Seoul which folks in the USA will be able to watch virtually.
Remember those of you sending virtual messages of encouragement, we will need them by close of business this Thursday, to translate and prepare for our friends in Korea.
Monday, April 26, 5-7 pm EST (Tuesday, April 27 6-8 am in Seoul): Discussing the theme of Open hearts…will be Nicholas Eberstadt and Olivia Schieber of the American Enterprise Institute who are hosting several high ranking North Korean escapees for a discussion of the human rights situation in North Korea…and the human rights situation in South Korea. They will be joined by David Maxwell of the Foundation for the Defense of Democracies. Topics to be explored will be ways to reach the elites in power to open their hearts to the truth and why that has become more difficult under the current government in South Korea. To register for AEI's Event Open Hearts visit:https://www.nkfw.org/registration/open-hearts.
Wednesday, April 28: April 28th is the anniversary of the first North Korea Freedom Day, and thus once again we will set aside an International Day of Prayer and Fasting for North Korea's FREEDOM. Alana Johnson is compiling powerful prayers that will be posted for all online who want to join us in prayer that day. Anna Yang has created this website where you can sign up now to join at https://www.april28.org.
Wednesday, April 28th: 5-7 pm EST (Thursday, April 29 6-8 am in Seoul): Discussing the theme of Open minds…will be Bruce Klingner and Olivia Enos of the Heritage Foundation who will host two panel sessions: one with North Korean escapees explaining what led them to escape, ie. what opened their minds to the outside world, was it K-pop, movies, radio broadcasting, soap operas, leaflets, and then a second session will feature North Korea defector NGO leaders who have been leading efforts to open more minds by getting information into North Korea through brilliant methods utilizing the land, the sea and the air. To register for the Heritage Foundation's Event Open Minds visit: https://www.nkfw.org/registration/open-minds.
Wednesday, April 28: 7-9 pm EST (Thursday, April 29 8-10 AM in Seoul ): Discussing the theme of Open borders…will be Dr. Pavel Klein of the Isabella Foundation who will host a session on the current state of the vulnerable population especially children in North Korea and how can humanitarian assistance be provided to address this population. North Korean escapees will address those issues as well as explore ways to open borders so that divided families can reunite and be in communication with each other. To register for the Isabella Foundation's Event Open Borders visit:
https://www.nkfw.org/registration/open-borders.
Thursday, April 29 7-9 pm EST (Friday, April 30 8-10 am in Seoul): For the first time ever, the North Korea Freedom Coalition will open its regular meeting to the general public for a free for all exchange on action items going forward for the freedom, human rights and dignity of the North Korean people, as the NKFC's motto is Acta Non Verba. We will hear from the top leaders among the defectors working for peaceful regime change and ways that we can work to save the lives of North Korean refugees currently in peril.
Friday, April 30, 12 noon EST On Friday there will be a closing ceremony (Saturday morning in Seoul), so for those of us in Washington, D.C. area, the North Korea Freedom Coalition will organize a peaceful vigil at 12:00 noon on Friday, April 30 to focus on the lives of the North Korean refugees currently detained in China and the two women recently given back to their abusers. As noted previously, we usually demonstrate at the PRC embassy, but things are different right now: these North Koreans would be in South Korea right now if Moon would act. So, we plan to assemble at the Embassy of the Republic of Korea this time and peacefully and respectfully ask for action on their behalf. To join the A team and take a stand for these refugees, email me.
Please join us for NKFW 2021 whenever you can from wherever you are.
Acta Non Verba,

Suzanne Scholte
Seoul Peace Prize Laureate
President, Defense Forum Foundation
Chair, North Korea Freedom Coalition