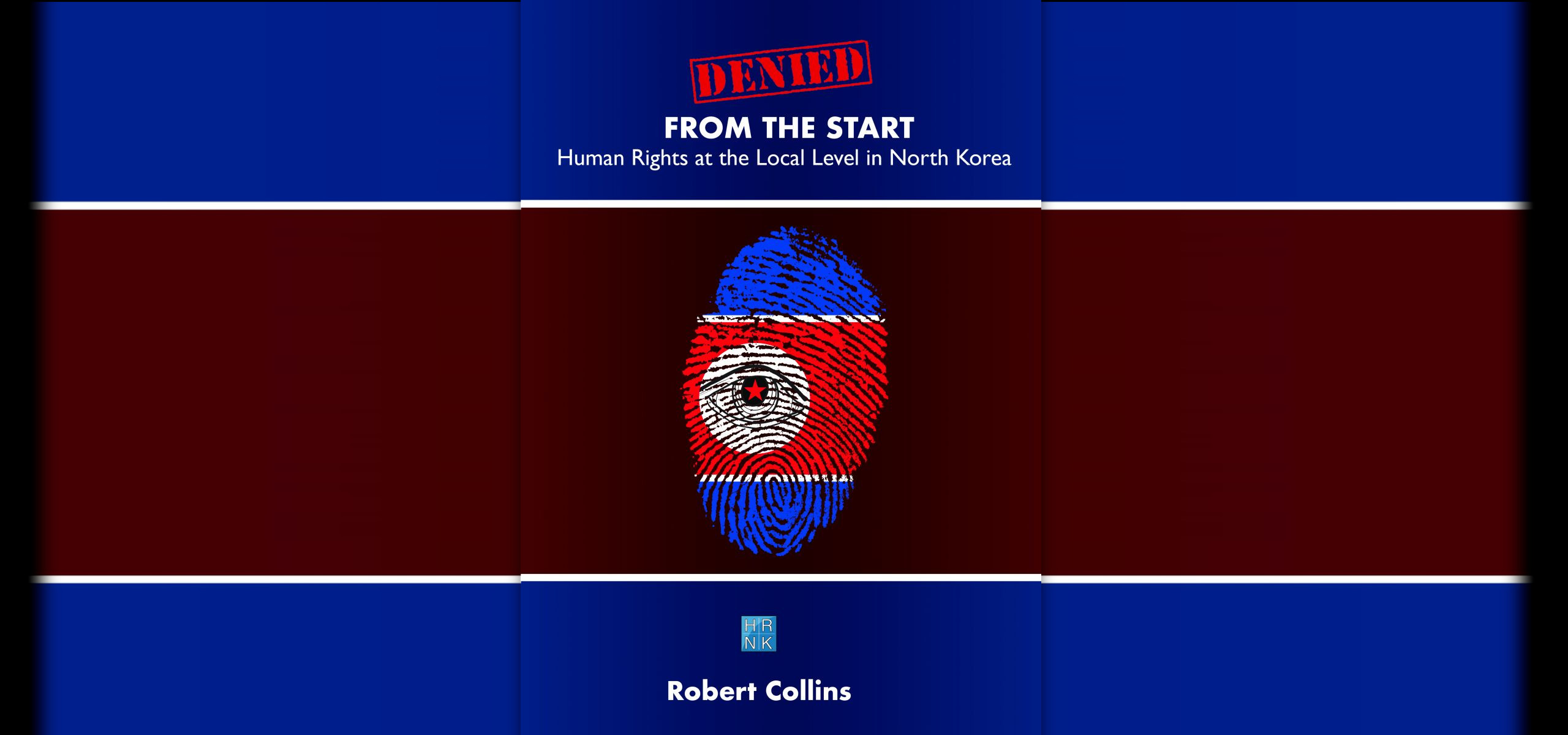 NEW HRNK REPORT HIGHLIGHTS THE LIFE OF NORTH KOREANS OUTSIDE OF PYONGYANG A ND EXPLAINS THE MECHANISM OF HUMAN RIGHTS DENIAL AT THE LOCAL LEVEL; FEATURES FIRST-HAND TESTIMONY OF MANDATORY SELF-CRITICISM SESSIONS

THE REPORT IS AVAILABLE HERE
---
WASHINGTON, December 19, 2018. The Committee for Human Rights in North Korea (HRNK) releases today a comprehensive study of North Korean society at the "local level," beyond the boundaries of the privileged elite who live in the capital city of Pyongyang. Denied from the Start: Human Rights at the Local Level in North Korea surveys the local institutions tasked by the Kim regime to deny the human rights of North Koreans within their families, schools, housing units, and workplaces.
Denied from the Start catalogs the systematic abuse of human rights by the North Korean regime, including a first-hand account of a schoolchild's experience of mandatory self-criticism sessions inside the country, along with a detailed rendition of her self-criticism notebook.
Author Robert Collins states: "It was my intent to adopt a bottom-up rather than top-down approach to studying North Korean society at the local level. I wanted to highlight the human rights abuses faced by the vast majority of North Koreans who are not political elites." In this way, Denied from the Start outlines the hardship endured by the family unit in the North Korean provinces. Collins further adds: "Parents are just trying to raise their children to have a better future and life than they did, but it's impossible because of the Kim regime's policies and institutions that deny human rights at every turn." Ultimately, Denied from the Start is a testament to the Party-state's willful failure to meet its obligations to its people, assumed through international human rights mechanisms North Korea has ratified as well as its own domestic legislation.
Denied from the Start makes it clear that North Korea's participation in international human rights mechanisms and accession to relevant legal instruments is not honored in policies at the local level, severely impacting ordinary North Koreans who are, in reality, denied their fundamental human rights from birth. According to HRNK Executive Director Greg Scarlatoiu, "understanding the dynamics of human rights denial at the local level is imperative in order to prepare for future humanitarian and development interventions as well as transitional justice." Scarlatoiu further states that, by understanding human rights denial at the local level, "the international community will be better equipped to approach the education of North Koreans about freedom and human rights when the opportunity presents itself."
Jung H. Pak, Brookings Institution Senior Fellow and SK-Korea Foundation Chair in Korea Studies states that "too often, we focus on the top leadership, the nuclear and ballistic missile programs and the national security threat they pose to the international community." Park considers that Robert Collins' studies, including Denied from the Start, "have profoundly shaped the contours of the debate and our understanding of the hardest of the hard targets." According to Park, Denied from the Start "powerfully shows how repression and human rights violations are baked into the system, and how the regime's harnessing of the mechanisms of internal control is a critical pillar that serves to reinforce the Kim dynasty's pursuit of a nuclear weapons program." Park regards the report as "a must-read for policymakers, military planners, students and national security experts."
David Maxwell, Foundation for Defense of Democracies Senior Fellow and HRNK Board member predicts that Denied from the Start "will become a most important contribution to the Korean unification process." According to Maxwell, "every military organization, intelligence agency, government department, and non-governmental and international organization that enters North Korea to help the Korean people will be well prepared if they read this report first. Policy, strategy, and campaign planning can flow from this report." Maxwell further states that "Robert Collins has given Koreans living in the North a voice and through this report we can better understand the situation and how to address it now and when unification happens."
Tomás Ojea Quintana, the UN Special Rapporteur on the situation of human rights in the DPRK, has called for access inside North Korea, particularly in the provinces. According to Special Rapporteur Quintana, "Whereas the system of political control over the population remains intact all along the country, there is a pattern of people being left on their own by the Government to make their livelihood –where people under arduous and generally illegal conditions must provide for their health, for their food–despite the Government's assurances that its people enjoy these kinds of rights".
North Korea will undergo its third Universal Periodic Review (UPR) in May 2019. This is a review process of a state's human rights record, and all UN member states are periodically reviewed with the intention of improving the human rights situation on the ground. As Denied from the Start recommends, the lives of North Koreans may be improved by eliminating loyalty-based socio-political discrimination (songbun), preferential treatment of residents in Pyongyang, and self-criticism sessions (saenghwal chonghwa). Consequently, the UPR is another opportunity to engage North Korea and advocate for human rights improvements on behalf of millions of vulnerable men, women and children. "If North Korea is keen on joining the 21st century community of civilized and responsible nations, it must assume its responsibility to abide by internationally accepted human rights standards," says Greg Scarlatoiu.
For media inquiries contact Greg Scarlatoiu at [email protected] or 202-499-7973 or author Robert Collins directly at [email protected].
HRNK was founded in 2001 as a nonprofit research organization dedicated to documenting human rights conditions in the Democratic People's Republic of Korea (DPRK), as North Korea is formally known. Visit www.hrnk.org to find out more.