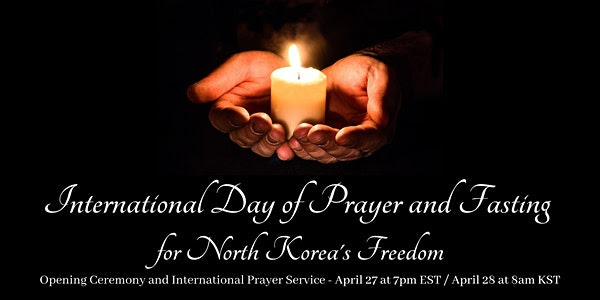 Dear Friends:
It gives me great pleasure to invite you to join a very special prayer service with North Korean defector pastors and others to launch the
International Day of Prayer and Fasting for North Korea's FREEDOM which will be held around the world on April 28th.
We are holding this virtual online prayer service on April 27th 7-8:30 pm EST/April 28th 8 am-9:30 am Korea that will include simultaneous translation in Korean and English of prayers and testimonies for North Korea's freedom as we kick off our international day of prayer and fasting. This will be an amazing time to lift this country and its people to the Lord for their freedom and human rights.
To register to participate in this special online prayer service, visit https://nkfc.link/april27
Also, remember the April 28th website will have resources for all who are praying and fasting for North Korean's freedom on April 28th. https://april28.org/
Acta Non Verba,
Suzanne