Dear Friends: 
Some action items for your consideration and some great news to report!  First up, please consider joining the following events.
Acta Non Verba,
Suzanne
Join the Team Organizing the International Day of Prayer and Fasting for North Korea to be held April 27/28th
The anniversary of the very first North Korea Freedom Day is coming up next month on April 28th to mark the largest gathering for North Korea human rights that had ever occurred outside the Korean peninsula.  That day approximately a thousand people from all over the USA rallied on Capitol Hill on April 28, 2004, with North Korean defectors and South Korean, Japanese, and Canadian human rights activists.  That day was cited as the pivotal moment that led to the passage of the North Korea Human Rights Act that Fall.  We are once again marking that day as an International Day of Prayer and Fasting for North Korea's freedom.  We expect this to be the most important day of the year as we will also hold an interactive prayer session on April 27th 7-8:30 pm(EST)/April 28th 8-9:30 AM (Seoul) to pray with North Korean defector pastors.  Thank you to the team forming so far: Anna Yang on global website, Alana Johnson on preparing prayers for the day, Johnny Park on translations.  Helping prepare for the interactive prayer service are Pastors Chang Ho Lim and Kang Chul Ho and Kim Seong Min is helping confirm North Korea defectors who are now pastors representing every province of the DPRK. Jason West is helping with the platform, and I am working on overall service and hope to get Dr. Thomas Belke to join us as he believes this is the most important thing we can do for North Korea.  Everyone will be invited to participate, but anyone wishing to help on planning, please let me know. This would include help reviewing prayers, plans, translations, etc.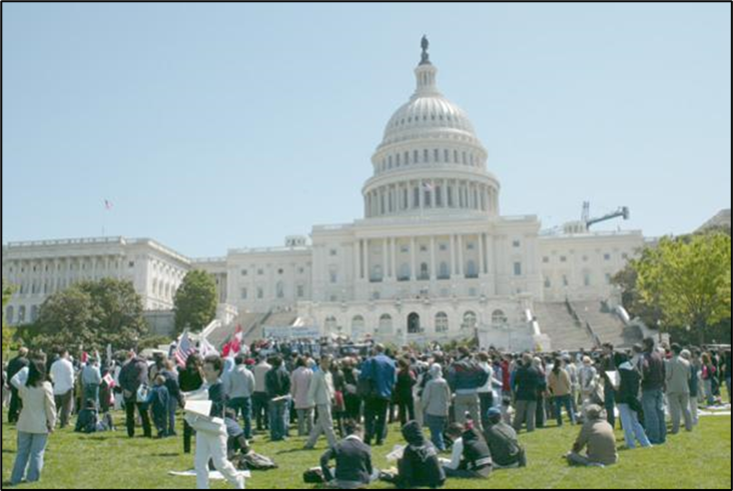 It is Time to go to Seoul!! North Korea Freedom Week May 22-28, 2022
It was confirmed by the North Korean defector leaders that the 19th annual North Korea Freedom Week will be held May 22-28th in Seoul.  You may recall we decided to have NKFW 2022 in May because of the critical South Korean election this month.  So. please consider joining the delegation from the USA — or from wherever you are — to travel to Seoul to support the people of North Korea and everyone working for their freedom and human rights.  More details will be forthcoming, but please mark those dates on your calendar.
DPRK exhibit and posters to foster hate for Americans.
Reporting on a Very Special Broadcast to North Korea
Finally, some great news to report: we had wonderful participation by Members of the U.S. Congress in our special messages that we broadcast to North Korea for Seollal on Free North Korea Radio.  This program has become very popular among our FNKR listeners in the DPRK as a powerful way to show the people of North Korea how much we care about them.  Despite the steady anti American propaganda they are fed starting from childhood and throughout their lives that we are their enemy, through this program they learn the truth of how much Americans are concerned about them.
We want to acknowledge and profusely thank Senators John Barasso of Wyoming, Chris Coons of Delaware, Ted Cruz of Texas,  Ed Markey of Massachusetts, Jim Risch of Idaho, Marco Rubio of Florida, and Representatives Steve Chabot of Ohio, Young Kim of California,  Doug Lamborn of Colorado, Alan Lowenthal of California, Michael McCaul of Texas, Gregory Meeks of New York, Scott Perry of Pennsylvania, Maria Salazar of Florida, Chris Smith of New Jersey, and Rob Wittman of Virginia for their powerful messages that were broadcast to the people of North Korea for the year of the Tiger.