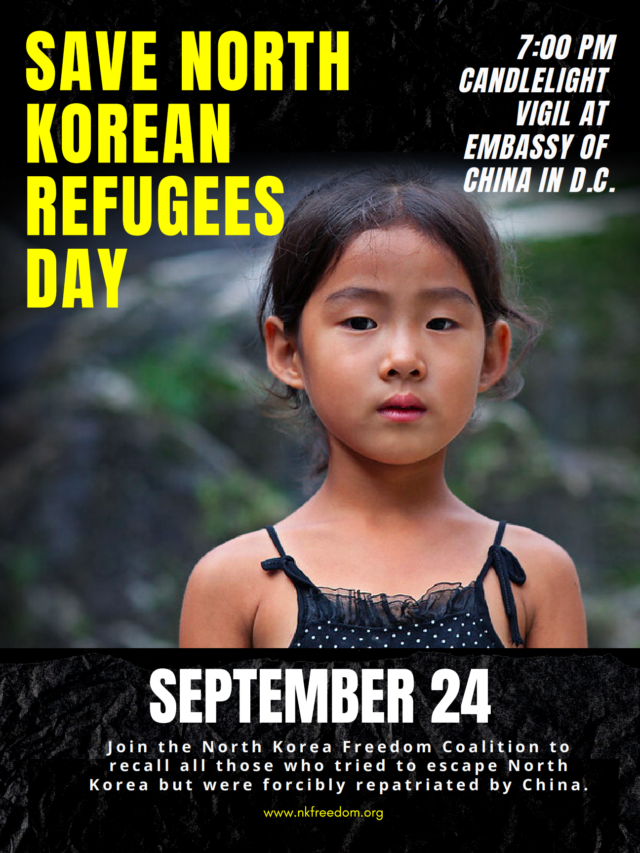 Dear Friends:
I am pleased to provide an update for activities and plans for our annual Save North Korean Refugees Day: September 24, 2020, a day in which EVERYONE around the world can take part.
Why September 24th and Why Care?
September 24th is the anniversary of the date in 1982 when the People's Republic of China signed the 1951 Convention Relating to the Status of Refugees and its 1967 Protocol. By signing this agreement the PRC agreed to share international concerns and protocols for refugees. Yet, the PRC continues to forcibly repatriate men, women, and children back to North Korea to face the wrath of Kim Jong Un. Xi Jinping knows these innocent human beings will face certain torture, certain detention and even public execution for trying to seek a better life, or in most cases today, trying to be reunited with their families in South Korea. The most recent UN Secretary General's report on human rights in the DPRK noted specifically the horrific and widespread ill-treatment of women who had escaped and been repatriated citing an OHCHR (Office of the High Commissioner for Human Rights) interview with over 100 women. The Secretary General called for the international community to extend protection to citizens of the Democratic People's Republic of Korea who have crossed international borders.. AND to take steps to ensure they are protected and not repatriated (66C). The OHCHR noted that "systematic human rights violations are committed in detention centres, including sexual violence against women and girls, appear to take place under the direct authority of the Ministry of People's Security and the Ministry of State Security, with the likely involvement of higher authorities and…such violations may amount to crimes against humanity."
Please consider the many ways you can take part in Save North Korea Refugees Day 2020:
Sign the online petition to Xi Jinping
Free North Korea Radio has set up a petition that everyone can sign at this website: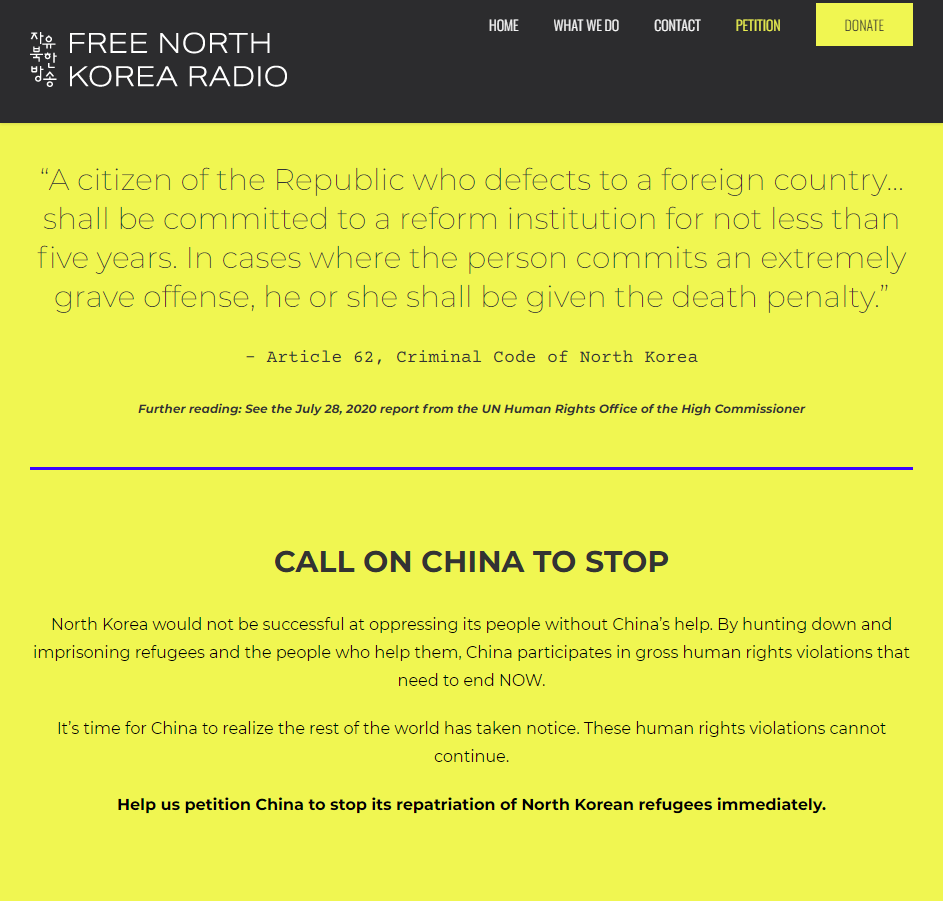 Be a country or city coordinator
Coordinators pledge to deliver (electronic delivery is fine) on Thursday, September 24th, a letter of appeal to Chinese President Xi Jinping via the local PRC embassy or consulate calling on the PRC to honor its treaty commitments and end its repatriation policy. A letter and delivery information will be provided for you or you can prepare and deliver your own letter of appeal from your respective NGO. Just let us know if you can help!
NEW ITEM: Save NK Orphans AND Display Your support for NK Refugees:
ISABELLA FOUNDATION is offering face masks with the words "SAVE NORTH KOREAN REFUGEES" printed on the front. Masks are being sold by the Isabella Foundation (a nonprofit) to support their work rescuing and resettling North Korean refugees and orphans, research projects. Net proceeds are tax deductible. Isabella is selling the masks for $20.00 each, NKFC members get a $5.00 discount. Just enter code NKFC. You can pay by credit card, check, or if you wil attend our vigil in DC, you can pay in person at the event. Visit here to order:
Join us 7 pm on Thursday, September 24th at the PRC Embassy in Washington, D.C. for a Candlelight Vigil
Despite COVID-19, members of the North Korea Freedom Coalition decided to gather (with masks and social distancing) at the Embassy of the People Republic of China and hold a candlelight vigil to recall all those who tried to escape but were forcibly repatriated to North Korea by China. We will gather at 7 pm at 3505 International Place, N.W., Washington, D.C. We are happy to provide transportation to DC from Northern Virginia. So, if you can join us that evening, please let me know and will have a seat for you!
Host a watch party for Crossing
Patrick Cheh, the producer of Crossing, has provided us copies of his award winning movie in recognition of Save North Korean Refugees Day. Crossing is a powerful drama based on true stories of North Korea refugees and tragically, this movie is as relevant today as it was when it was first produced. Attorney Tom Barker, who has helped gain U.S. Citizenship for many North Korean refugees, said that it was the movie Crossing that inspired him to get involved in the North Korea human rights movement. Described by the Wall Street Journal as "A Schindler's List for North Korea", this powerful film is being offered for free but we do request a donation. We started shipping out copies this week and have a copy just for you. Send me your mailing address and will mail it to you right away. You can see the English trailer for Crossing here:
Send us Your Short Video Message for the North Korean Refugees
We are putting together short messages of solidarity to share on Save North Korean Refugees Day to give courage and support to the people of North Korea. You can say a prayer, send a short message of encouragement, light a candle, just let them know they are NOT forgotten – whatever inspires you!.
Upload your short video message here (Google sign-in required) or upload on Facebook or Twitter and tag our social media accounts. And we will be sure these messages will also be heard in North Korea via Free North Korea Radio.
ACTA NON VERBA,
Suzanne
P.S. to give you some ideas for 2020, here is what happened around the world during last year's Save North Korean Refugees Day: