September 24, 2019, is the annual Save North Korean Refugees Day, organized by the North Korea Freedom Coalition, marking the anniversary of Communist China signing the international refugee convention – the very agreement it ignores and cruelly violates by its treatment of North Korean refugees
Do not forget that China's president Xi Jinping continues to kill innocent men, women, and children fleeing North Korea, as we see reports of his ongoing brutality against Christians, Falun Gong practitioners, Tibetans, Uighers, and now the citizens of Hong Kong.
Everyone, regardless of where you live, can participate with us on Save North Korean Refugees Day, this September 24.
We are recruiting city and country coordinators who agree to deliver an appeal, on that day, to the local Chinese Embassy or consulate in your city.
Here's what you can do:
If you live in a City with a Chinese Embassy or Consulate: Consider being a country or city coordinator. We ask you commit to deliver a letter of appeal to Communist Chinese President Xi Jinping demanding the PRC end its repatriation policy. A template letter will be provided for your use, or coordinators can prepare their own letter of appeal from their respective NGOs. We only ask that you share a picture of your delivered letter.
You are also welcome to take whatever additional action you would like on that day. For example, coordinators have hosted conferences and film screenings to raise awareness of the North Korea human rights issue, while others have planned demonstrations and rallies and prayer vigils.
In Washington, D.C., we will provide transportation for a full afternoon of activities, including a demonstration and a candlelight vigil at the Communist Chinese Embassy.
Here is a link to last year's activities and events for reference to give you some ideas of what folks from Los Angeles to Pretoria, from Tokyo to Linglongwe did last year to stand up for our North Korean brothers and sisters facing death by China's actions: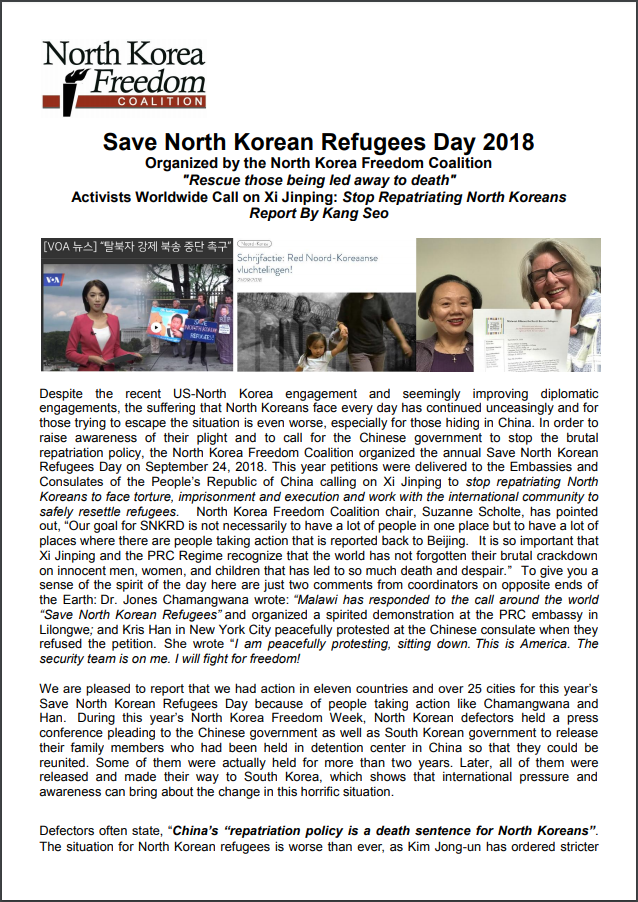 We must not remain silent for those being led away to death. If you can deliver a letter or take action in solidarity to raise awareness of this issue, please email us at info (at) nkfreedom.org.